"What we are doing in Gaza, we can do in Beirut." – Israeli Defense Minister Yoav Gallant
Much more so than Hamas, Hezbollah is loaded with lethal weapons. Attacks over weekend killed twenty IDF soldiers which is the deadliest day of the combat phase. Hezbollah is bombing northern Israel and Haifa. All civilians in this sector of Israel have been sent to bunkers.
CTP-ISW did not record any attacks targeting US forces in the Middle East on November 12.
The Israeli sub-zero "leadership" is divided on the degree of response to the Hezbollah escalation. Ironically Bibi is the cooler head among this posse.
After #Netanyahu finished his speech, Defense Minister Yoav Gallant, and Benny Gantz, a member of the War Cabinet, ignored Netanyahu and turned their backs to him. #Hamas #Hezbollah #PalestinianGenocide #IsraelTerorrist #Usa_Supports_Israel_Crimes

#Hezbollah pic.twitter.com/SRw8R09vlO

— inaya bisma (@inaya_bisma) November 13, 2023
BREAKING:

Galant:

"Hezbollah is close to making a grave mistake – the residents of Beirut may end up in the same situation as Gaza where they are already raising a white flag and running away from home" pic.twitter.com/CagK55Gro4

— Megatron (@Megatron_ron) November 11, 2023
There is less ambiguity with Hezbollah who have issued a new warning to the US about its readiness to destroy its fleet off its shores. It is noteworthy that a little earlier Reuters reported that Hezbollah was likely acquiring Russian-developed Onyx missiles. In addition; tomorrow, Hezbollah's Secretary General Nasrallah will give a speech that will be very unusual for the second time in just a week.
🇱🇧🔰| Hezbollah Cheif Nasrallah :
Plans Are Not Disclosed In Speeches,
Eyes Must Remain On The Field pic.twitter.com/ykkcgD3BIb

— Mister J. – مسٹر جے (@Angryman_J) November 12, 2023
No more just RPGs and mortars.
Hezbollah publishes footage of its fighters working against IDF units on the Israeli-Lebanese border. It is likely that the Radvan special forces unit is also involved. pic.twitter.com/9SGJQ0OX3I

— J. C. Okechukwu (@jcokechukwu) November 12, 2023
Massive retaliation is threatened, thus the next phase of the regional war is out of the bag. The standard indiscriminate Israeli method is threated.  "The IDF has plans to change the security situation in the north," a new statement just said. Lebanon's people will pay the price."
🚨BREAKING: MAJOR ISRAELI ATTACK IN LEBANON IMMINENT

The IDF dropped leaflets with a warning to Lebanese towns near the border:

"The actions of the terrorist organization Hezbollah push the IDF to act against it in the area where you live. For your safety – you must evacuate… https://t.co/vpuYXqfZJB pic.twitter.com/woP8uCDYX6

— Mario Nawfal (@MarioNawfal) November 12, 2023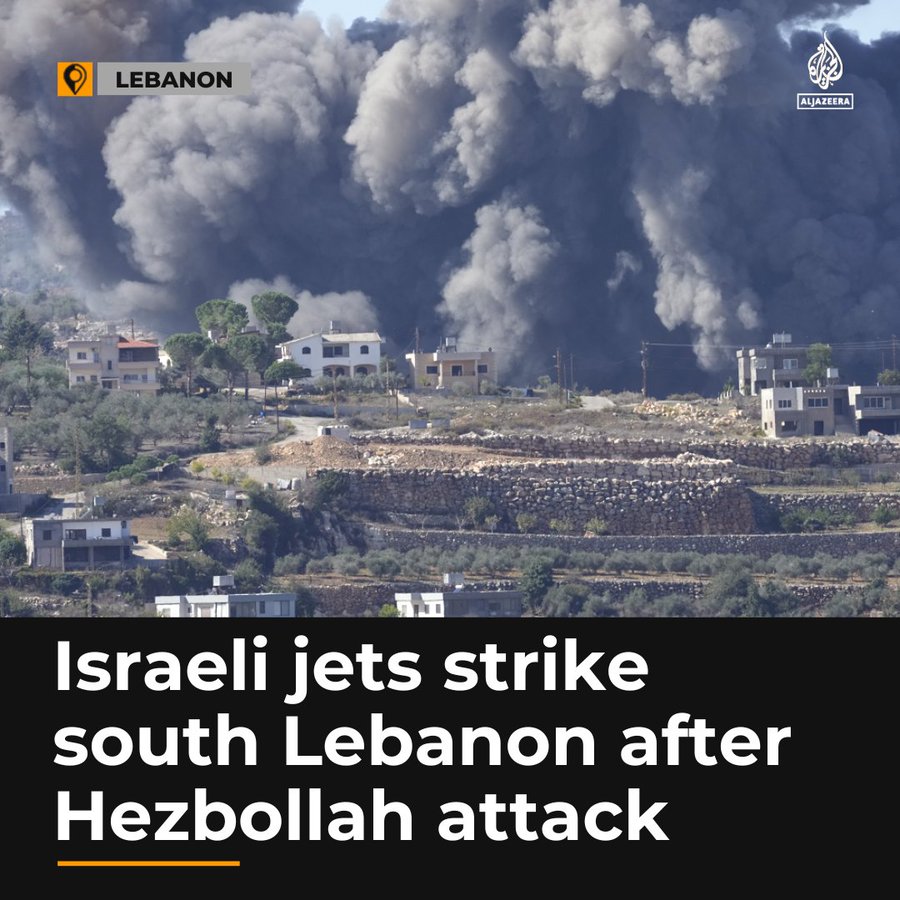 In the meantime, Arab countries have met in Saudi Arabia. No doubt a lot of back channels side rooms conversations and planning. Turkey voted for sanctions, and we wonder when they unilaterally cut off Israel's oil supply that passes through via pipe lines.
In a scene straight out of Steve Inman's f'n around and find out (FAFO) Alpha dog Netanyahu taunts: "I say to the Arab leaders, if you want to preserve your interests, you must do one thing…Remain silent."
Big talk. They can't even defeat Al Qassam in Gaza. 
IDF combat footage in Gaza. Tanks firing stirs up clouds of dust. And not just sitting in tanks, you need to be in great shape just to day after day walk on all that rubble with heavy boots and gear. And this is a reserve unit.
IDF's 10th reserve BCT combat inside Gaza (Nov. 12, 2023) pic.twitter.com/Gw3EyIKx5m

— OSINTNic (@OSINTNic) November 12, 2023
Hamas footage shows more peak around corners ambushes. Drones are heard overhead in a ruined ghost town setting.
More footage of close combat in Northern Gaza with IDF armor being hit. pic.twitter.com/wtjddACyVe

— Rajendran (@Rajendr67215893) November 11, 2023
On Al-Jazeera military says 65% of al-Qassam are still held in reserve?
Al-Jazeera military analyst Feizi Al-Duwairi:

Currently, only 35% of al-Qassam Brigades personnel are participating in combat operations. #Israel #Russia #Gaza #Ukraine https://t.co/7oepzPyA3L

— ReD Line (@channelredline) November 12, 2023
The IDF has pushed to the area of al Shifa Hospital. Overnight the blocks north-northeast of the hospital were heavily contested. There has been heavy fighting at the Square of the Unknown Soldier.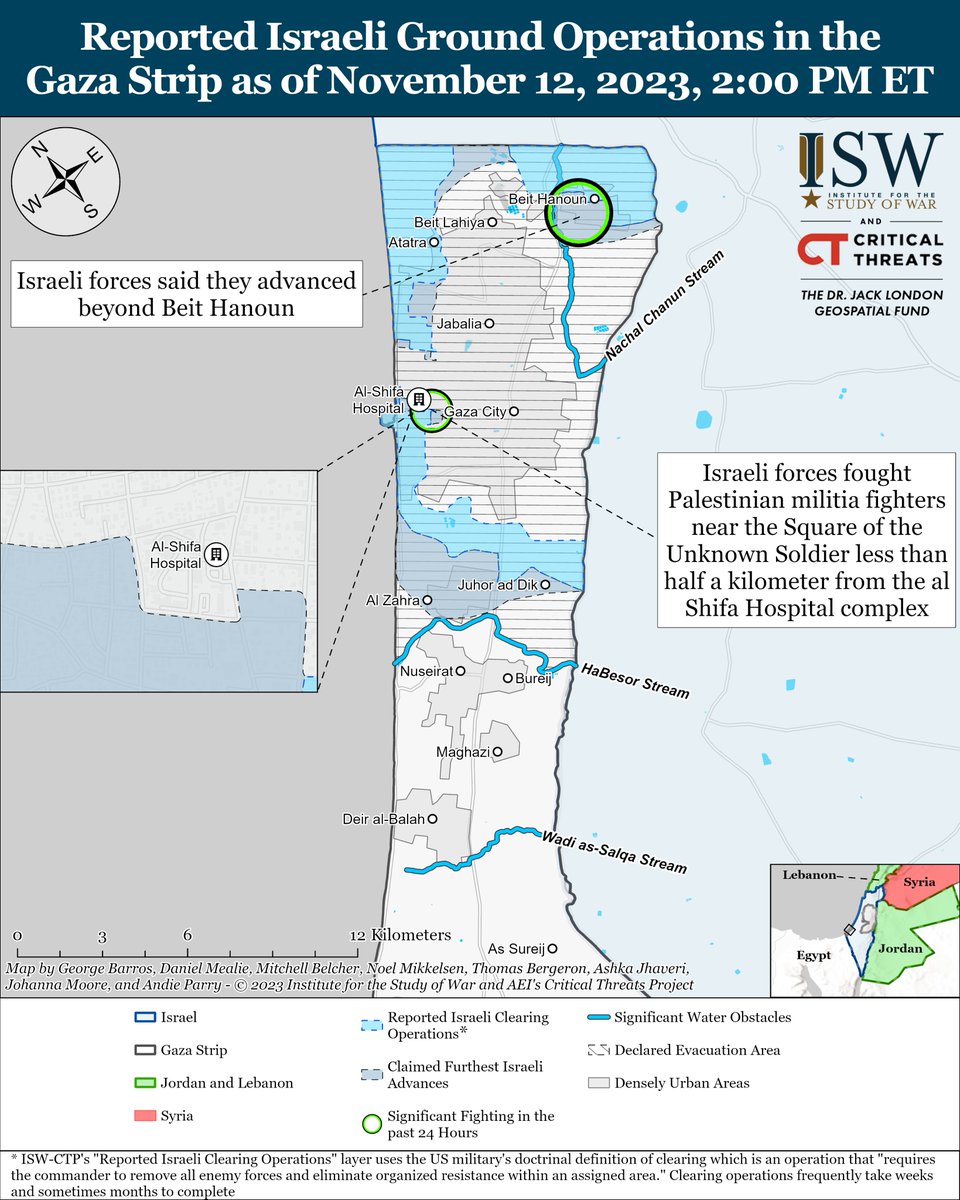 Mofo Livin" Large