Much ado has been made concerning the Shifa hospital and now it appears the IDF has secured it without further incident. This has now opened the way for some black magik and gaslighting to be performed. Since the vast majority of the cognoscenti never take the trouble to view these videos, the narrative can be embellished.
This is amazing. David Friedman, former US ambassador to Israel under Trump, says "it's been proven with certainty" that the Hamas Headquarters is under the Shifa Hospital. Asked for the source of this alleged proof, Friedman accuses @marclamonthill of doing Holocaust denial! pic.twitter.com/qXLii0n8CT

— Michael Tracey (@mtracey) November 15, 2023
Watch this baited breath IDF tour of the hospital basement MRI room. Be particularly aware of the narrative being spun, which is that these rooms are part of a systematic military command center and operation. To my eyes the reality borders on embarrassing and more than a bit mental – but as we always say- you decide. Does this performance enhance Israeli credibility?
Watch as LTC (res.) Jonathan Conricus exposes the countless Hamas weapons IDF troops have uncovered in the Shifa Hospital's MRI building: pic.twitter.com/5qssP8z1XQ

— Israel Defense Forces (@IDF) November 15, 2023
Shown at 1:50 and tucked in the corner behind the MRI machine is a backpack containing a uniform, grenades and AK-47 and clips. Last time I heard these neighborhoods were right smack in a war zone. Inquiring minds would like to know if Hamas casualties weren't treated for wounds in the hospital? There are medical supplies in the room, which suggest fighters might have been treated right there on the spot. Accordingly it would seem logical that their packs and gear might be stored in the meantime.
At 3:25 we see a closet with a few rifles. At 4:00 this story is repeated although nothing is shown.  At 4:30 what looks almost like a kid's bag is shown and it is empty. Incredibly at 4:44 the considerable content of the tiny pink bag are shown. No spoiler alert here, but is this for comedic black magik effect? This dog and pony show is repeated when yet another bag is found.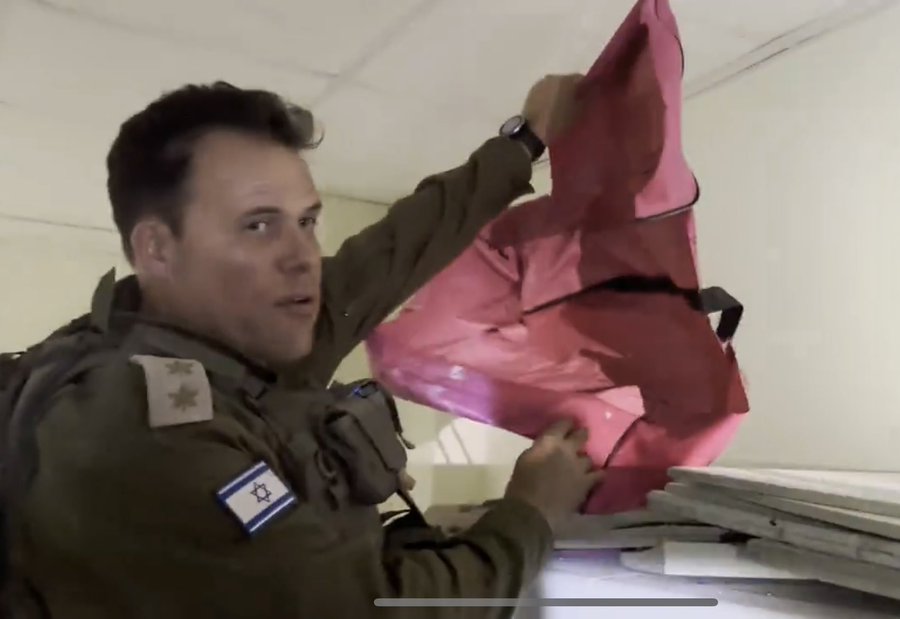 Yes, Martha right in the middle of a combat zone with casualties, whodathunk? Doth protest too loudly as is the construction of the lies. Is this the preposterous justification for bombing and shelling medical facilities?
IDF POSTS FIRST VIDEO FOOTAGE OF HAMAS TORTURING HOSTAGES BENEATH AL-SHIFA HOSPITAL pic.twitter.com/2qqr3y8FEj

— Norman Finkelstein (@normfinkelstein) November 15, 2023
On the Gaza front the IDF is still battling to secure their gains. They are experiencing harassing attacks in their rear which leads us to wonder if they are having difficulties detecting tunnels now that they are fighting in the urban blocks. IEDs would be particularly effective in this combat scenario.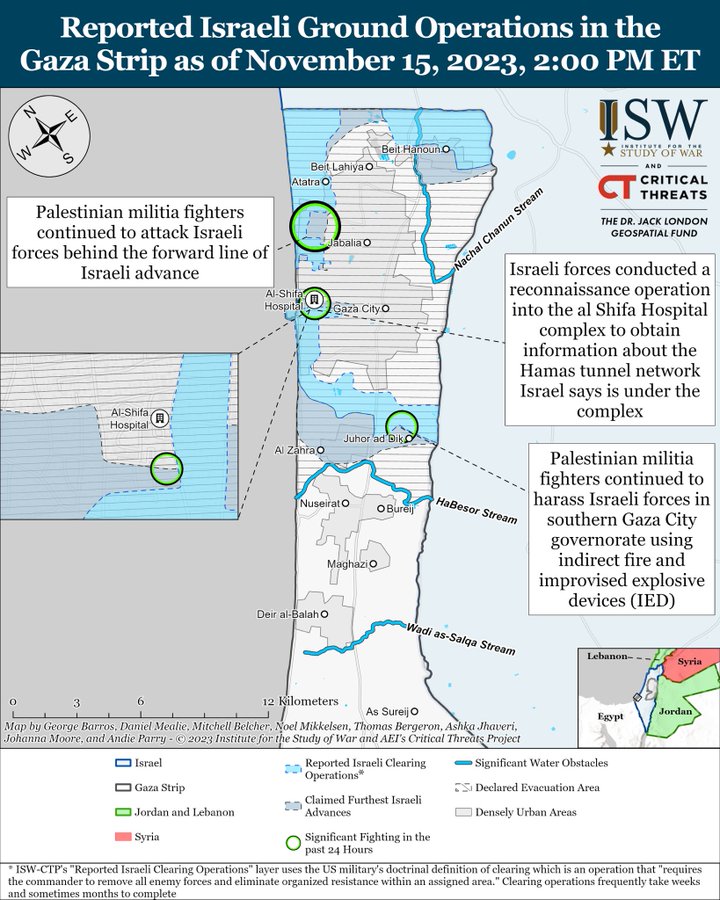 On the Hezbollah front:
⚡️SUMMARY of today's Hezbollah operations, on 7 different targets all achieving direct hits:

• Attack on Ramim IOF barracks
• Attack on Rowaysat Al-Alam IOF site
• Attack on Haddab Yaron IOF site
• ATGM attack on an Israeli vehicle in the Tiyahat Triangle
• ATGM attack… pic.twitter.com/1yYCRY7JC0

— Arya – آریا 🇮🇷 (@AryJeay) November 15, 2023
In a potentially worrisome sign for Israel, just 31% of poll respondents said they supported sending Israel weapons, while 43% opposed the idea. The plunge in US support follows weeks of heavy Israeli bombardment and ground combat against Gaza civilians.
Despite the loss of support:
Israel Warns: "What We Are Doing in Gaza, We Can Do In Beirut" https://t.co/SVSrcegi1E

— zerohedge (@zerohedge) November 15, 2023