https://www.fcc.gov/about/leadership
https://www.fcc.gov/about/leadership/ajit-pai?qt-leadership_tabs=0#qt-leadership_tabs
---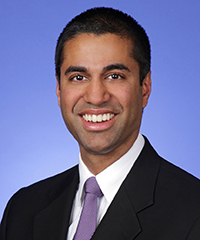 Ajit Pai is the Chairman of the Federal Communications Commission. He was designated Chairman by President Donald J. Trump in January 2017. He had previously served as Commissioner at the FCC, appointed by then-President Barack Obama and confirmed unanimously by the United States Senate in May 2012.
Regulatory Philosophy
Chairman Pai's regulatory philosophy is informed by a few simple principles. Rules that reflect these principles will result in more innovation, more investment, better products and services, lower prices, more job creation, and faster economic growth.
Consumers benefit most from competition, not preemptive regulation. Free markets have delivered more value to American consumers than highly regulated ones.
No regulatory system should indulge arbitrage; regulators should be skeptical of pleas to regulate rivals, dispense favors, or otherwise afford special treatment.
Particularly given how rapidly the communications sector is changing, the FCC should do everything it can to ensure that its rules reflect the realities of the current marketplace and basic principles of economics.
As a creature of Congress, the FCC must respect the law as set forth by the legislature.
The FCC is at its best when it proceeds on the basis of consensus; good communications policy knows no partisan affiliation.
---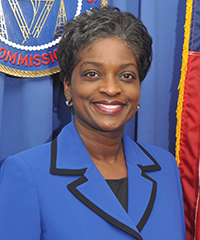 Mignon L. Clyburn served as Acting Chairwoman of the Federal Communications Commission, following her appointment by President Barack Obama on May 20, 2013. As Commissioner, she is serving a second term as a Democrat on the Commission, for which she was sworn in on February 19, 2013 following her re-nomination by the President and confirmation by the United States Senate.
Clyburn began her service at the FCC in August, 2009, after spending 11 years as a member of the sixth district on the Public Service Commission (PSC) of South Carolina. She served as its chair from July 2002 through June 2004.
Prior to her service on the PSC, Clyburn was the publisher and general manager of The Coastal Times, a Charleston-based weekly newspaper that focused primarily on issues affecting the African American community. She co-owned and operated the family-founded newspaper for 14 years.
A longtime champion of consumers and a defender of the public interest, Commissioner Clyburn considers every Commission proceeding with an eye toward how it will affect each and every American. She is a strong advocate for enhanced accessibility in communications for disabled citizens, and works closely with representative groups for the deaf and hard of hearing. She has fought to promote strong competition across all communications platforms, believing that the more robust and competitive the marketplace, the less need there is for regulation. However, when the market is not adequately addressing consumer concerns, Clyburn is an outspoken champion for smart, targeted regulatory action. She has pushed for media ownership rules that reflect the demographics of America, affordable universal telephone and high-speed internet access, greater broadband deployment and adoption throughout the nation, and transparency in regulation. Commissioner Clyburn is a member of the Federal-State Joint Board on Universal Service, Federal-State Joint Board on Separations, and the Federal-State Joint Conference on Advanced Services, all of which she chaired for three years during her first term at the FCC.
Clyburn is a graduate of the University of South Carolina, and holds a Bachelor of Science degree in Banking, Finance and Economics.
---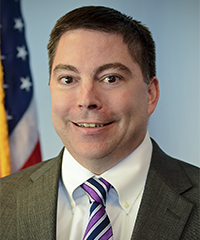 Michael O'Rielly was nominated for a seat on the Federal Communications Commission by President Barack Obama on August 1, 2013 and was confirmed unanimously by the United States Senate on October 29, 2013. He was sworn into office on November 4, 2013. On January 29, 2015, he was sworn into office for a new term, following his re-nomination by the President and confirmation by the United States Senate.
Prior to joining the agency Commissioner O'Rielly served as a Policy Advisor in the Office of the Senate Republican Whip, led by U.S. Senator John Cornyn, since January 2013. He worked in the Republican Whip's Office since 2010, as an Advisor from 2010 to 2012 and Deputy Chief of Staff and Policy Director from 2012 to 2013 for U.S. Senator Jon Kyl.
He previously worked for the Republican Policy Committee in the U.S. Senate as a Policy Analyst for Banking, Technology, Transportation, Trade, and Commerce issues from 2009 to 2010. Prior to this, Commissioner O'Rielly worked in the Office of U.S. Senator John Sununu, as Legislative Director from 2007 to 2009, and Senior Legislative Assistant from 2003 to 2007. Before his tenure as a Senate staffer, he served as a Professional Staff Member on the Committee on Energy and Commerce in the United States House of Representatives from 1998 to 2003, and Telecommunications Policy Analyst from 1995 to 1998.
He began his career as a Legislative Assistant to U.S. Congressman Tom Bliley from 1994 to 1995.
Commissioner O'Rielly received his B.A. from the University of Rochester.