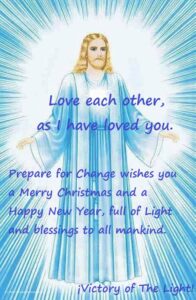 Jesus said: I want you to be the "Crystal Cup" of the Ascension consciousness of the Ascended Masters for life, so others can only obtain for themselves the feeling of security about Ascension, accept it and do a conscious effort to achieve it.
That is what I came to Earth to do. I gave the example of loving the world for the fulfillment of that Divine Plan. As I said to those who were with me in my ministry when I was about to leave, I said, "Love one another, as I have loved you." I repeat those words tonight, if you love me, you will love each other as I have loved you; and I will pour My Love and that of the other Ascended Beings into all lives on earth, until the light becomes so bright that it dissolves all human shadow and the records of destruction until life in this universe does not retain memory and no record of humanity's disobedience to the Divine Plan. Then the light that enters will simply dissolve everything different from itself; and his love and his happiness and perfection will take care of all beings and all things, and they will expand to bless the entire Universe of power of such magnitude that all are one with him, and his Freedom and Victory and Joy is complete
Powerful decree to do every day:"I AM" THE RESURRECTION AND THE LIFE! "I AM" THE ASCENSION IN THE LIGHT! I command it for all humanity with the Universal Power of Christ of his Invincible Power of Love!
¡Victory of The Light!