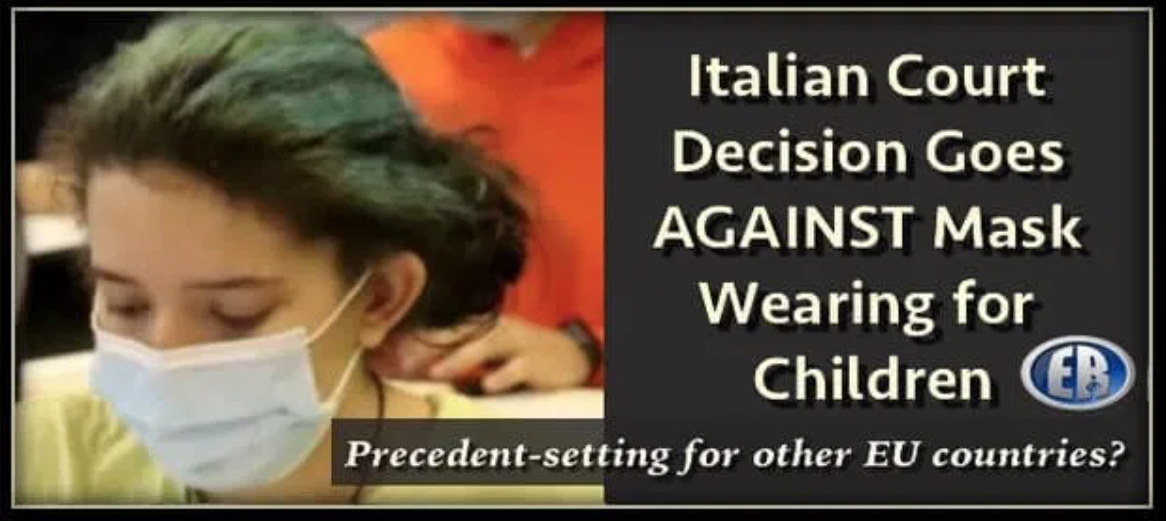 Repost from the website:
The Liberty Beacon and Europe Reloaded
February 8, 2021
ER Editor: Most of us reading a site like this are very much aware of the various physical risks of mask-wearing. Remember the fireman showing us how a variety of masks deprive us of the legally required level of oxygen? See FIREMAN PROVES WEARING MASKS DEPRIVE YOU FROM A VITAL OXYGEN LEVEL. See also German Neurologist Warns Against Wearing Facemasks: 'Oxygen Deprivation Causes Permanent Neurological Damage'.
The short piece below from French independent media reports on the importance of the SECOND key decision made recently by the Italian Council of State, this time on children being forced to wear masks in schools (the first concerned the prohibition on hydroxychloroquine).
This is a decision to watch.
Italy: masks forbidden at school, judge of the Council of State
FRANCE SOIR
Is this a domino effect to come? President Frattini of Section III of the Italian Council of State issued a decision condemning the use of masks at school among minors.
In his judgment he considers :
1) that the defendant administration has not yet filed in the file, before the Regional Administrative Court of Lazio, the documents that the first judge had ordered to be produced within the period of 15 days, which has now largely elapsed.
2) that these documents, which confirm the need for the timely filing of documents, are relevant to the decisive profiles in the litigation in question;
3) that, in the case brought to the attention of this judge, the minor represented by his parents repeatedly documented, by means of medical certificates, problems of lack of oxygenation due to the prolonged use of masks during all school hours;
4) that in the class attended by the minor, there is not even a device for monitoring oxygenation – an oximeter, an instrument of minimal cost and very simple usability allowing each teacher to intervene at the very first sign of difficulty in breathing in very young students;
Therefore, the judge held that :
"The minor cannot be forced to use a mask during class because of the risk of respiratory fatigue.
"Due to the serious and immediate nature of this decision, the provisional execution of this decision was requested in order to protect the young student and to allow him to attend classes."
An important decision that will certainly be watched by French lawyers who have already referred this issue to the French Council of State.
Me Manna (ER: lawyer) analyzes it thus:
"this is the second decision of the Italian Council of State which, after having lifted the objection on the prescription of hydroxychloroquine for Covid-19 by doctors, calls into question the obligation to wear a mask for 6-10 year olds on the grounds that the side effects have not been sufficiently evaluated and that its effectiveness has not been proven". "We will not fail to assert this element of comparative law in the case of our current procedures".
************
Published to The Liberty Beacon from EuropeReloaded.com