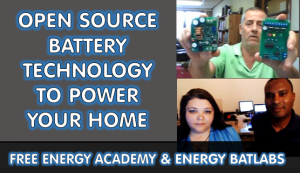 Join us as we take you inside of one of the most amazing free energy labs we've ever seen!  In this video, Hope and Tivon from the Free Energy Academy interview Geoffrey Miler from Energy Batlabs.  Also included in this video are two demonstrations of some of Geoffey's technology and one demonstration of Geoffrey and James Robitaille working together on the QEG.

Watch here on Youtube

The Technology of Energy BatLabs
Geoffrey's lab contains decades of his life's work. It is almost impossible to count the number of devices and ground-breaking technologies that Geoffrey has built, all of which are now housed in a 5,000 square foot lab that looks like something out of Batman or Ironman. The most exciting part is that Geoffrey is now at a point where he is ready to bring out the FIRST 5-7 of his different devices to the public and he has chosen the Fix the World platform by which to do it. Geoffrey is interested in open sourcing and licensing his technology and states that "teaching people how to build this stuff is one of the things he wants to do most".  Examples of some of the first few technologies to roll out are battery technology to power a house, AC technology to power a house, and AC technology to run a car without any kind of charging platform. He is currently using these devices to power his own lab.
Collaboration between Energy BatLabs and the Fix the World Organization to Bring Open Sourced Technology to the People
Geoffrey has followed Fix the World and the QEG for the last four years and he's watched the way in which we have brought out our own technology with great interest. At this year's Energy Science and Technology Conference in July, Geoffrey was the first one to greet the newly arriving James and Valerie Robitaille once they pulled into the parking lot after they drove the QEG nearly 3,000 miles across the country for a live demonstration. Geoffrey has a QEG of his own and is now working with renewed enthusiasm alongside James for its development.
Shortly after meeting at the conference, James and Valerie visited with Geoffrey at his Energy Batlabs to do some experiments with the QEG and look at some of his other technology.  We have formed an engineering collaboration and partnership to work together to make these technologies available to the public.
Fix the World has created a fully functioning platform called the Free Energy Academy that we use to roll out open sourced technology and make it available to people on a global scale. We have the ability to support co-development groups around technology, create online shops for product sales and delivery, host global web video energy lab teaching and meetings, and foster a safe troll free community for members to access our library of technology resources. We've been slowly building our platform over time and have big plans for the near future to implement the distribution of technologies like Geoffrey's.
Magnetic Impulse Technology Explained and Demonstrated
The first two demonstrations of Geoffreys technology are in this video and we will also briefly explain them here.
Magnetic Impulse Technology is when you pulse a coil wire which then creates a back EMF (or radiant energy) spike that charges batteries.  You can then create a system that switches between battery banks. While one bank is being charged, another bank is running your load.
Geoffreys technology consists of two circuit boards that are arranged in a unique system; an impulse board that creates the power that goes into the batteries, a switching board that switches the power between battery banks, and a configuration of these boards hooked up to an inverter which Geoffrey  has been using to power his entire lab. Geoffrey will be making this system available for licensing and Fix the World will be working with him to help him get this technology to the people. This roll out includes offering the circuit boards for purchase for the average off-grid enthusiast and also offering the technology to industries for their use.
The Magnetic Impulse Technology system essentially replaces solar panels. As Geoffrey explains in this video, todays solar systems require a series of large expensive panels that can take up a lot of space in some one's backyard. These panels only charge one bank of batteries and are generally only functional for 7-8 hours during the day. Which means you can only get a portion of your electric needs met plus there's the large expense and space required for using solar. Geoffrey's system only takes up a fraction of the space and uses three banks of batteries which are then charged in rotation to provide continuous power throughout the day.
Just imagine, with this technology you can set up a wall of batteries in a shed next to your home that will enable you to drastically reduce your electric bill or live completely off grid. This system is scale-able to meet any power requirement.
For more information about this Technology Please sign up to the mailing list.
Click here to sign up for the Energybatlabs mailing list
Fix the World has set up a mailing list for anyone who is interested in this technology so that we can send updates and announcements as soon as it is made available on our platform.  If you are interested in the technology please sign up for the mailing list here. For questions pertaining to the technology please contact Geoffrey here. Also you can visit the Energy Batlabs website at energybat.com