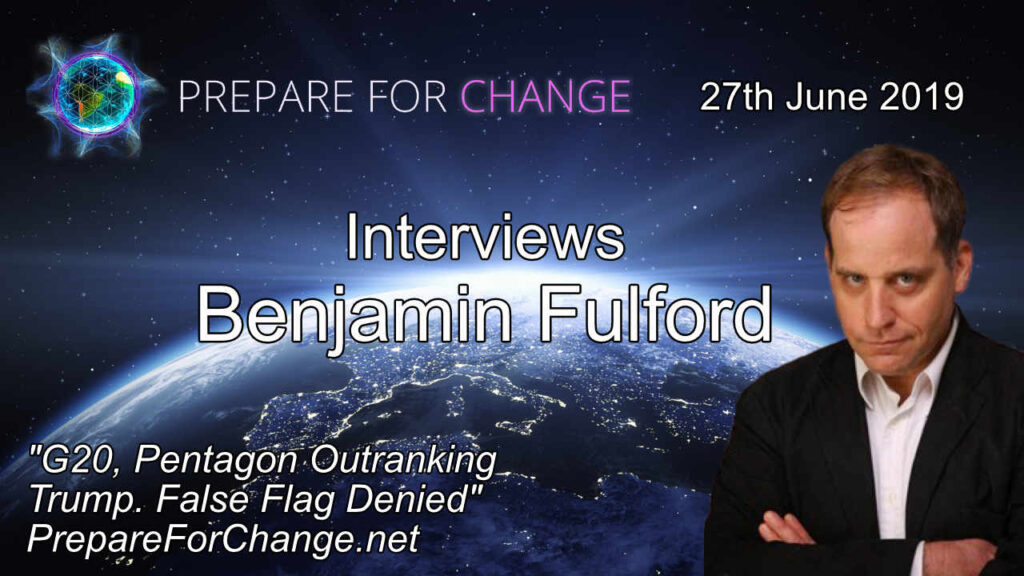 In this episode of our long-running discussions with Benjamin Fulford recorded on the 27th June 2019. We discuss the Summer Solstice, which is usually a hot time for the dark to cause sacrificial events. Iran False Flag was thwarted and the military gave the stand down orders. The Big Tech companies like Facebook, Google, Amazon need to be brought to heel and broken up. Finally, we're looking at events that could be happening later in this autumn period where the financial system can't continue as it is. G20 is happening as we speak and Benjamin gives his thoughts on what might or might not happen.
Also, Benjamin is hearing from the intelligence communities that something big is likely to happen either this month or possibly later in September.
The old system IS collapsing and we're seeing the death throes of the old guard. Until we're finally fully liberated, we must keep applying pressure to the old system.
For previous releases in this long-running series of interviews:
https://prepareforchange.net/category/interviews/benjamin-fulford-interviews
Let's take our cue from Benjamin Fulford and turn our world into a wonderful place!
As Benjamin says, don't just sit on the sidelines, pick up the phone and call your elected officials and respectfully demand answers to these gross atrocities that have plagued our way of life for far too long. The stronger our collective voice, the quicker we affect change.
Please consider a donation
We are an all-volunteer organization. We do set aside a little money to support our website, but nearly all of your donations to PrepareForChange.net support about 460 children in an orphanage we funded in Malawi, Africa.
Think about donating to these children, who have lost their parents. You can donate here.
As always try to raise your vibration and remain loving to one another, we're all one, and we're all going to bring about a new world!