It started in the most populous city in central China, Wuhan, where 300 people were first reported to be infected with a new coronavirus. Now, it has spread throughout China and several other countries in Asia and has even dipped into Europe, North America, and Australia. What will happen next?
Scroll down if you want to get straight to the current coronavirus timeline (updated daily).
What is the Coronavirus?
Coronaviruses are actually a family of viruses. Common types of these viruses mimic the common cold while also causing various respiratory issues. Other forms of coronavirus can be much more severe, and may even lead to death. Here are some of the possible symptoms:
Fever
Runny nose
Headache
Sore throat
Cough
Trouble breathing
In more extreme cases, leading to pneumonia or bronchitis
Interestingly, most people have been infected at least once in their lives, as reported by the United States Centers for Disease Control and Prevention (CDC).
The viruses cause illness in both people and animals, but typically only spread either from person-to-person or animal-to-animal – rarely would an animal coronavirus evolve or mutate to the extent of infecting people. But China may be experiencing one of those rare cases, as Chinese authorities report most patients in the Wuhan City outbreak have been linked to a large seafood and animal market.
Now, here is a rough timeline of everything that has happened concerning the coronavirus. We'll continue to report on new outbreaks or quarantines, while keeping this piece updates as well.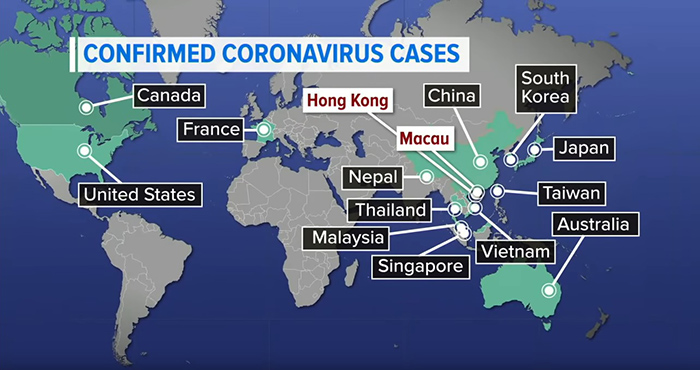 A Rough Timeline of Current Coronavirus News
On December 31st, 2019, the World Health Organization (WHO) is alerted by Chinese authorities that pneumonia-like sickness cases are circulating in the city of Wuhan – the largest city in Hubei, a province in Central China. People are quarantined and investigations ensue.
The CDC pinpoint a large seafood and animal market where the cases may have originated, leading the market to be closed on January 1st, 2020.
Comes January 9th, when the WHO reveals that the coronavirus currently circulating is not a known type, which is causing elevated concern. By this time, 59 people have been reportedly affected by the virus, with 7 of them being in serious condition.
The first person dies in China on January 11th, while the number of people sickened gets reduced overall.
On January 13th, the virus travels outside of China's borders, hitting Thailand.
Two days later, on January 15th, China's health commission says that the virus hasn't definitively been transmitted from human-to-human, though it can't be ruled out.
A case of the virus hits Japan on January 16th.
A second person dies in Wuhan on January 17th. The CDC announces tighter protocols for screening individuals at 3 airports: San Francisco, New York's JFK, and Los Angeles.
By January 21st, 6 people have died and the sick-count rises to 200+ in China as it spreads throughout the country. By this time, it has made an appearance in China, Thailand, Japan, Taiwan, and South Korea.
Also by January 21st, the first case of coronavirus was discovered in the United States in the state of Washington. The man landed in the states from Wuhan on January 15th. Following the news, the Washington State Department of Health made a decision to monitor 43 people who had close contact with the man. This is in Snohomish County.
Around this time, it was reported that the Chinese government quarantined the city of Wuhan and voiced plans to shut down the airport and public transportation. Approximately 17 people have died and another 500+ sickened.
The virus is known as 2019-nCoV.
Citing how the Chinese government covered up information regarding the SARS outbreak from 2002-2004 (the government hid initial SARS cases for 4 months), Chinese citizens fear the government is currently hiding some information about the coronavirus. According to the New York Times, the first case of the virus was actually reported on December 8th – not December 31st. Wuhan officials "insisted that it was controlled and treatable." China censors are said to be scrubbing the internet. What's more, police said that 8 people who posted on social media about the virus were 'spreading rumors.' More on that in the link – you should check it out.
Health authorities in Texas start to investigate a suspected coronavirus case on January 23rd, according to the local health department.
Numerous reports come out on January 24th regarding updates on the virus and how China and other countries are reacting. On or around January 24th, 14 people were tested for the virus in the United Kingdom. By now a reported 26 people in China have died from the virus, though the WHO says that most of those who have died from coronavirus "had underlying health conditions such as hypertension, diabetes or cardiovascular disease."
Japan buckles down in preparation for people to travel into the country in celebration of the Chinese New Year – the Year of the Rat. Airports have more intense screenings, airlines are urged to distribute health declarations, and businesses warn employees of the oncoming visits. Also by this time, the health ministry in Tokyo revealed the 2nd case of the virus in the country.
Reports come in about a 2nd coronavirus case in Chicago. The CDC also start investigating another 61 potential cases from 22 states.
Also on the 24th, China goes into lock-down by shutting tourist attractions and public transportation systems. Part of the Great Wall of China as well as Disneyland in Shanghai close. Fourteen cities housing a total of 40 million people also go into some form of lock-down. Further, China announces that it will be building a 1,000-bed hospital (in just 10 days) dedicated to those struck with the virus.
Australian authorities announce the first case to reach Australia's second smallest state, Victoria.
An infection-count estimate becomes voiced by health experts, suggesting that as many as 9,700 people could be infected, which is 'far more than the 600-count stated by other officials.'
A Chinese doctor named Wang Guangfa fears that the virus spread to him through the eyes. Experts confirm that this is indeed possible if you touch your eyes with contaminated hands.
By January 25th, 2 more cases have been confirmed in France. As well, the virus has taken 41 lives and infected more than 900 people worldwide, China restricts travel for 35 million people, and other areas go on lock-down as concerns and mistrust grow among the public.
A doctor is reported dead from the virus. As of 1200 GMT on the 25th, the death toll in China reaches 42, with another estimated 1,372 being infected. The Chinese president Xi Jinping warns of 'grave situation,' while the U.S. evacuates its citizens from Wuhan.
Chief Executive of Hong Kong, Carrie Lam declares a virus emergency, extending school cancellations until February 17 and canceling all official visits to mainland China.
Canada reports that a "presumptive" case of the virus has been discovered in Ontario, which would mark the first instance of the virus in Canada. Not long after, a case of coronavirus is indeed confirmed in the country.
Now, it's said that the virus killed 56 people and sickened at least 1,975, most of which have taken place in China.
China's National Health Commission (NHC) announces that the virus is contagious even in its incubation period – referring to the time which passes between first exposure and when symptoms first appear. What's more, the coronavirus is growing stronger with its ability to spread, leading scientist to keep a close eye on possible mutations.
On the 26th, Reuters reports on a group of masked protesters in Hong Kong who set fire to a newly-built building which was to be used for quarantine.