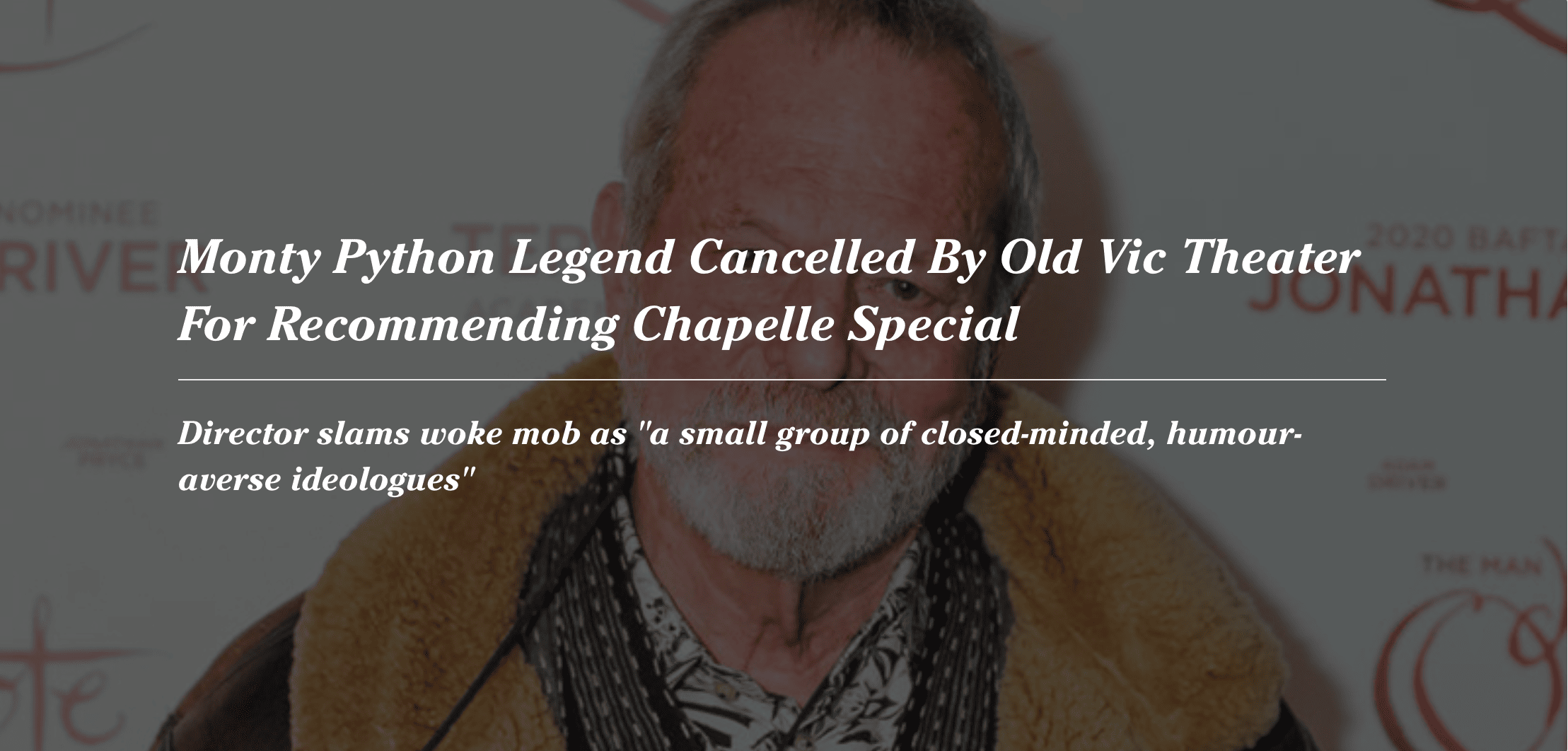 From newswars.com:
Monty Python Legend Cancelled By Old Vic Theater For Recommending Chapelle Special
Director slams woke mob as "a small group of closed-minded, humour-averse ideologues"
Director and Monty Python legend Terry Gilliam has found himself the latest victim of cancel culture as the Old Vic Theater in London dropped plans for a production of Stephen Sondheim's musical Into the Woods after Gilliam merely suggested on social media that people should watch Dave Chappelle's latest Netflix special.
Essentially Gilliam was canceled by the Old Vic for engaging in wrong think.
Not one to keep his opinion to himself, Gilliam blasted the move as the theater caving to a minute mob of woke complainers.
Gilliam noted "It is very sad that a great cultural institution like The Old Vic allowed itself to be intimidated into cancelling our production of Into The Woods by a small group of closed-minded, humour-averse ideologues on their staff, who absurdly, call themselves "The Old Vic 12"…as if they are the victims of some cruel injustice desperately fighting for their freedom!"
The Brazil director continued "My unspeakable crime was recommending my Facebook followers to watch a Netflix special by a brilliant and provocative American comedian, and then share with me their opinions."
"They did and civilisation did not collapse! However, The Old Vic's artistic credibility certainly has," Gilliam further urged.
He also warned that "Freedom of Speech is often attacked, but I never imagined that Freedom of Recommendation would be under threat as well."
Chapelle's Special, The Closer, was targeted for cancelation by extremist trans-activists who accused the comedian of making transphobic remarks.
Chapelle himself said at a recent performance that "If this is what being canceled is like, I love it," adding "F*** Twitter. This is real life."
Gilliam's Monty Python brethren John Cleese has also made it his mission to speak out against cancel culture, ironically opting to cancel himself recently "before someone else does."
Cleese, who was scheduled to bring along a film crew as part of a documentary on cancel culture called "Cancel Me," didn't even make it to a scheduled debate at Cambridge University, noting that the 'debating society' at the University banned another guest, art critic Andrew Graham-Dixon, for impersonating Adolf Hitler.
Given that Cleese has impersonated Hitler, and Nazis multiple times as part of comedy sketches and shows, he took the decision to 'blacklist' himself as a protest against the University's woke move.